Welcome to the ukBouldering.com Wiki
This Wiki is an off-shoot of the UKBouldering Forums and is the product of various knowledgeable people who post there.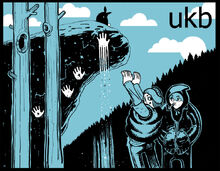 You can find information on using the UKBouldering forums, general advice on climbing and bouldering and more specific topics such as training and how to deal with the (inevitable) injuries that arise. Many of the UKB regulars don't just boulder but, unsurprisingly, tie in to clip bolts, swing axes, place gear and climb big walls and between them there is a wealth of knowledge that is gradually being shared within these pages.
Overtime details of different venues for bouldering and climbing around the world is growing (very gradually). If your local venue isn't in there or you feel the current information doesn't do it justice then please take the time to add details or edit the page to bulk it out. If you're an active boulderer/climber in the UK you might find a list of useful webcams that are around popular bouldering/climbing venues useful when heading out.
A useful (and vaguely amusing) Glossary of Bouldering Terms is maintained to help those unfamiliar with some of the terms used in various pages and because everyone likes lists there is a section of Lists, glorious lists if you want to know the biggest dyno, or first problem at a given grade.
Finally a list of Dry Tooling Damage is maintained to detail tools with fools who've been damaging rock, as well as a page of links.
Community content is available under
CC-BY-SA
unless otherwise noted.